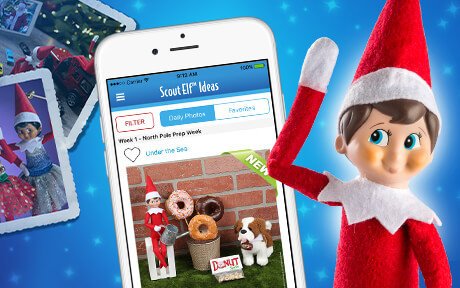 Scout Elf® Ideas App
★ AWARD-WINNING APP
Scout Elf® helpers always match the unique personalities of their families! Some are playful and creative, while others are sporty and adventurous. This app offers daily photos to inspire every elf during the Christmas season. Pictures either come with materials and instructions or fun ideas for spending time with your family. From quick and easy ideas to creative and complex ones, this app has them all! It also includes filtering options and special daily reminder alerts from the North Pole.
Features:
DAILY PHOTO FEED

– During the holidays, receive new daily photos from the North Pole for your family and every elf to enjoy. Click on each for more details!

FILTER

– Santa wants to make sure you can find the right inspiration for your Scout Elf pal, so use the filter to narrow what photos display in the feed.

MATERIALS, INSTRUCTIONS AND MORE!

– Not only were these elves captured in action, they also helped us put together a list of what your elf might need to recreate each photo and Scout Elf challenges for spending time with your family.

NORTH POLE ALERTS

– Santa wants to make sure his favorite helpers have everything they need to be creative, so he's sending your family a special daily alert to help you remember.

FAREWELL MESSAGE

– Santa likes to teach the Scout Elf helpers to be polite and courteous, so keep an eye out for a special farewell letter from your elf, thanking you for all the fun they've shared with your family.