Prep for All Hallow's Eve with bewitching crafts that will get your home frightfully festive for the spooky season! Hang finished craft stick spiderwebs on a stairwell or light up a hallway with easy-to-create mason jar mummies. Kids will have a blast creating Halloween inspired crafts to celebrate the upcoming holiday! Happy Halloween!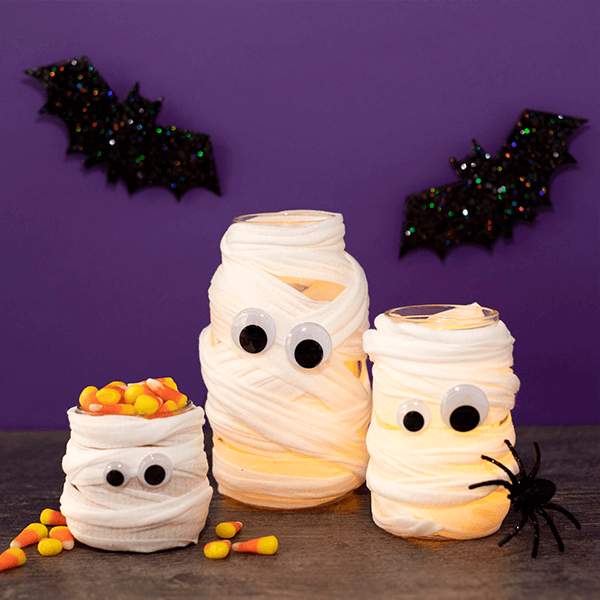 Mummies
Mason Jar Mummies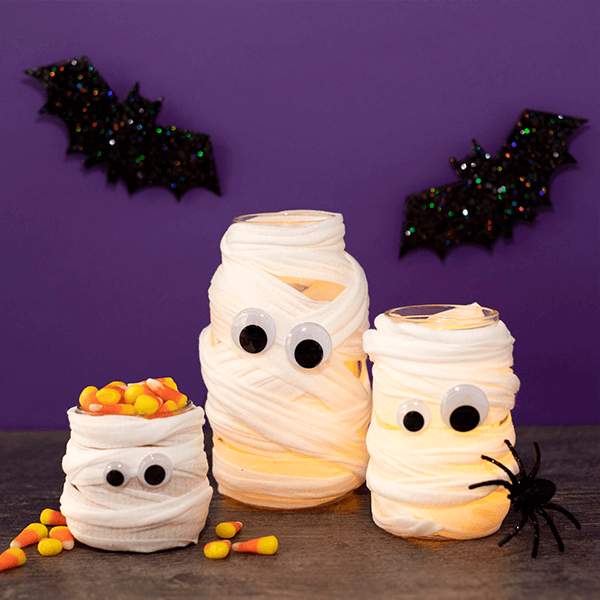 You'll Need:
Different sizes of mason jars or clear jars
White gauze
Googly eyes
Flameless votive candles
Scissors
Glue
Candy corn (optional)
Instructions:
Gather a variety of mason jars or clear jars.
Use white gauze to wrap each jar multiple times. Use small dots of glue to secure the gauze to the jar.
Glue different sized googly eyes on each jar.
For decoration, place flameless votive candles in the jars to make your mummies glow. Helpful hint: You could also fill the jars with candy corn and set them out for kids to grab a handful when they are searching for a sweet Halloween snack.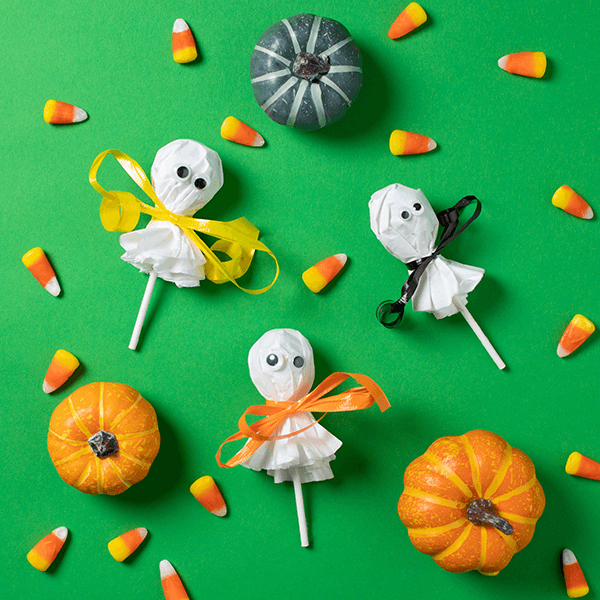 Ghosts
Lollipop Ghosts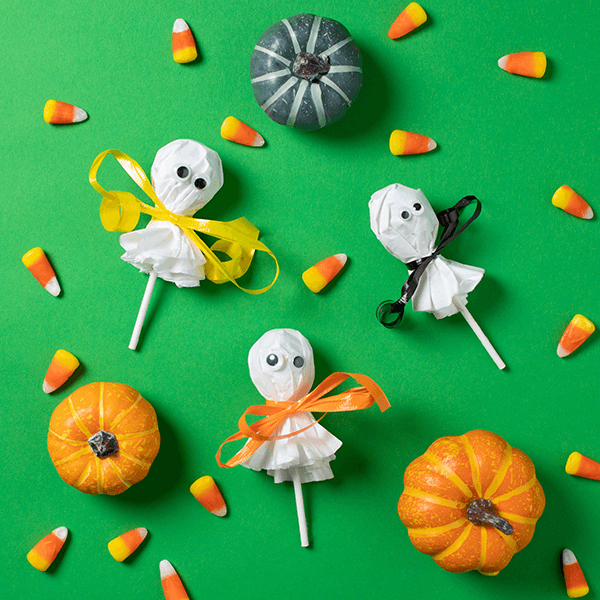 You'll Need:
Lollipops
Coffee filters (three per lollipop)
Miniature rubber bands
Thin black, yellow or orange ribbon
Miniature googly eyes or black marker
Instructions:
Wrap three coffee filters over one lollipop.
Place a miniature rubber band around the coffee filters to hold them in place.
Use thin ribbon to tie a bow around the "neck" of the ghost.
Glue miniature googly eyes on the ghosts, or draw on eyes with a marker.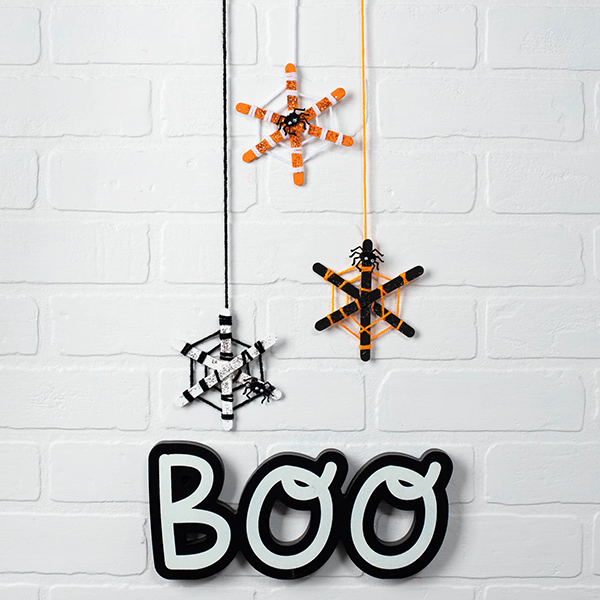 Spiderwebs
Craft Stick Spiderwebs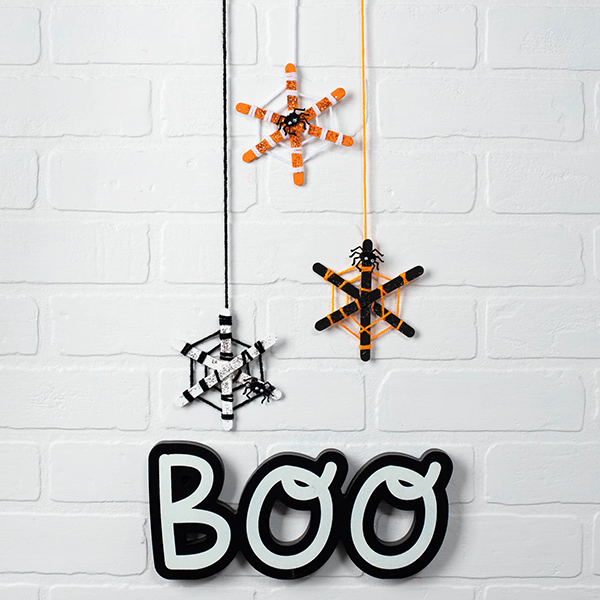 You'll Need:
Craft sticks (three per spiderweb)
Black, orange or white paint or paint marker
Black, orange or white yarn
Small plastic spiders or spider stickers
Silver or gold glitter glue (optional)
Glue
Scissors
Paintbrush
Instructions:
Create the base of your spiderweb by gluing together three wooden craft sticks. Make an "X" shape with two of the sticks and place the third stick in the middle of the "X" vertically.
Paint the cluster in any Halloween-inspired color you'd like. Add glitter glue for extra sparkle.
Once dry, take a ball of yarn and tie a knot around the end of one stick. Then, slowly unwind the yarn and wrap it around the sticks to create a web. Helpful hint: The pattern does not need to match perfectly. Let little ones have fun spinning their web in various directions.
When you've finished, cut the yarn and glue the loose end to the stick.
After, cut one additional piece of string to glue to the spiderweb, so it can hang as décor.
As a finishing touch, glue on fake plastic spiders or add spider stickers.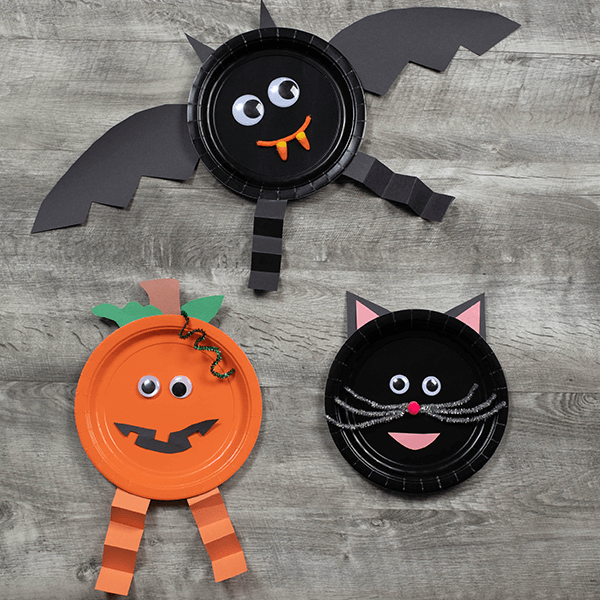 Halloween Friends
Paper Plate Halloween Friends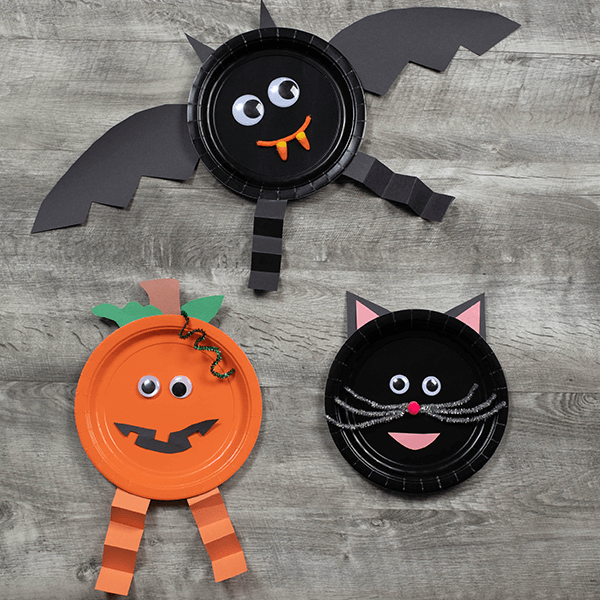 You'll Need:
Orange and black paper plates
Black, pink, brown, green and orange construction paper
Scissors
Glue
Googly eyes
Pipe cleaners
Instructions:
Let your favorite Halloween characters inspire this craft. Choose an orange or black paper plate as a base.
Use construction paper to decorate the plate. Cut out a stem and leaves for a pumpkin, ears and a mouth for a black cat and ears and wings for a bat.
Continue to add extra decorations like candy corn teeth, a pom-pom nose, pipe cleaner whiskers and googly eyes!
Finished crafting? Place these Halloween inspired friends around your home to decorate for this haunted holiday!
Looking to craft your own Halloween costumes, too? Check out these DIY Christmas-inspired costumes!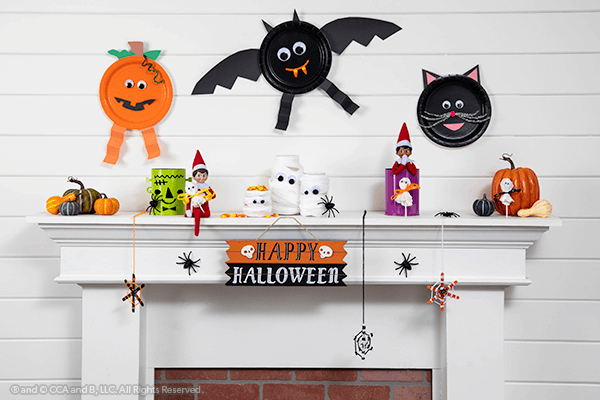 Please remember that when attempting the crafts included in this post children should always be supervised by an adult. When using crafting supplies or products, always read manufacturer's instructions and warnings.