Creating crafty concoctions—a Scout Elf favorite! The Scout Elves love to experiment with science and magic at the North Pole, and they're ready to share a new experiment with their families: elephant toothpaste. Bring adventure to at-home learning via this cool science project. Grab the safety goggles and get to work creating this simple chemical reaction that will leave kids bursting with excitement!
Safety First:
CAUTION, ADULT SUPERVISION REQUIRED: This experiment is commonly referred to as Elephant's "Toothpaste" because it looks like oversized toothpaste coming out of a tube, but this is not toothpaste for human use or consumption. Crafters should familiarize themselves with all chemicals and follow all recommended safety precautions, which include: wear gloves and avoid letting anything touch your skin, prepare craft in a well-ventilated space, wear safety goggles and do not inhale, ingest or put anything in your mouth. Children should be supervised by an adult at all times while performing this experiment.
You'll Need: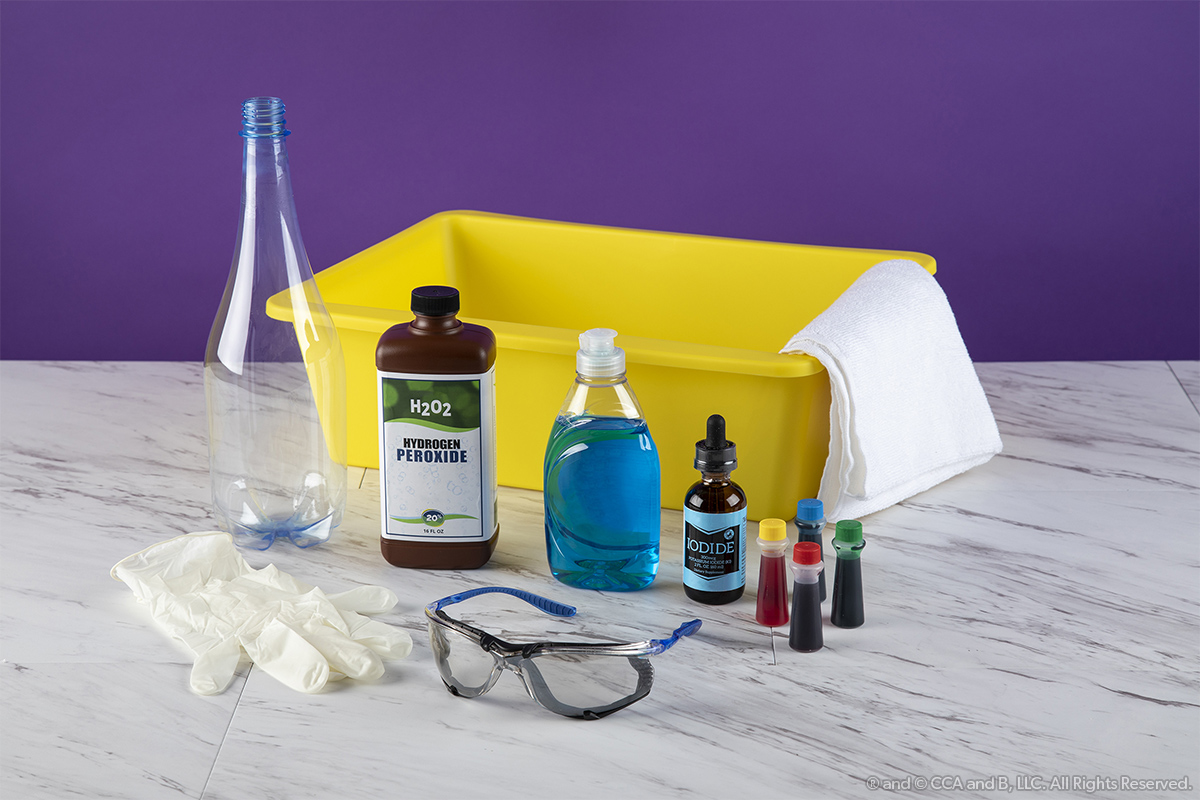 Parents, pay close attention to the materials needed. Some items may need to be purchased online in advance. Only the percentages and ingredients listed will create the proper reaction.
20% hydrogen peroxide (Must be 20%, otherwise the craft will not work. Call ahead to your local craft store or order online.)
Dish soap
Food coloring
Potassium iodide
Empty plastic bottle or test tube
Large tub
Safety glasses
Gloves
Towel
Instructions:
Put on gloves and safety glasses.
Add a small amount of 20% hydrogen peroxide to the empty plastic bottle or test tube.
Add a few drops of dish soap.
Swirl the bottle, mixing the hydrogen peroxide and dish soap.

Place the bottle in a large tub.
Add 5-10 drops of food coloring. Helpful hint: Use two different colors, one on each side of the bottle, so the end result will be multi-colored. Do not mix the colors. Make sure you're working on a stain resistant surface.

Add a small amount of potassium iodide and stand back!

Check out your elephant toothpaste explosion. Be careful. It may be hot!
Head to the Craft Corner to see other exciting STEM crafts kids will love!
Please remember that when attempting the craft included in this post children should always be supervised by an adult. When using crafting supplies or products, always read manufacturer's instructions and warnings.