Families around the world adopt Scout Elves and Elf Pets® into their homes. Many fans know the ins and outs of The Elf on the Shelf® tradition but what about the Elf Pets®? Is there anything important to know about these pals and how kids can play with them? Can you hold them? Do they move? Do they live at the North Pole? Read on to get the answers to your most frequently asked questions!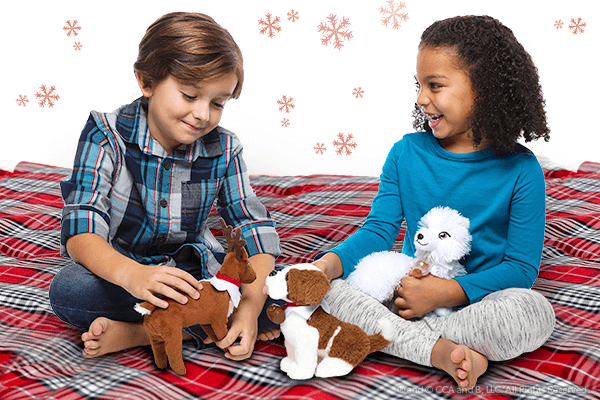 Can I touch my Elf Pets®?

Yes! Elf Pets® love to be cuddled and hugged! They also love when their families play with them and include them in fun activities. It is important to hold and love your Elf Pets® as much as possible in order to help Santa make Christmas a success year after year!

Do Elf Pets® fly to the North Pole each night?

Unlike Scout Elves, the Elf Pets® duty is to stay with kids and play throughout the season. They like to stay near little ones to receive as many cuddles and hugs as possible.

Do Elf Pets® hide in different spots or move around the house?

Elf Pets® go wherever your kids go! Unlike elves, they don't have to stay in one spot to scout and can be brought on all of your child's holiday adventures.

Do Elf Pets® partake in elf ideas?

Scout Elves are the masterminds behind elf ideas in your home, but sometimes, they invite the Elf Pets® to join them! It's common to see Elf Pets® playing a part in your elf's daily antics, but once they participate in setting the scene, they're free to play!

Do Elf Pets® return to the North Pole after Christmas?

From family to family, each Elf Pets® can differ, but most live with their families year round. Then, children can continue to hug and play with their Elf Pets® as often as they want for as long as they want.
Have you recently adopted an Elf Pets® and need help naming your new friend? Check out these North Pole naming tips!