Due to the North Pole's snowy climate, the Scout Elves are accustomed to growing all their favorite foods and flowers indoors to help them sprout! Use the elves' tried and true method for indoor gardening to create DIY mini gardens that can incorporate real plants and flowers or plastic ones! Just the right size for elves and perfect to adorn a tabletop in your home, these gardens will let your creativity grow!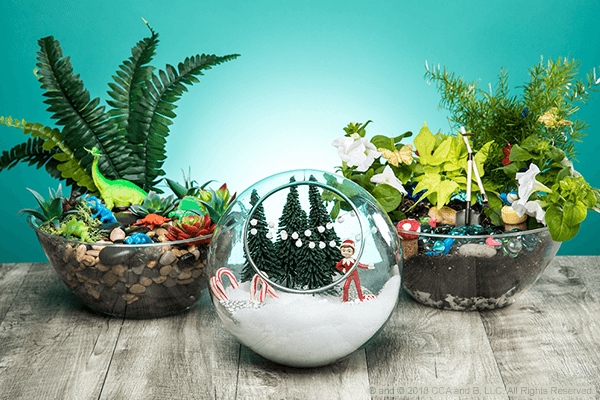 You'll Need:
A plastic or glass container

Decorations (click buttons below to see what the Scout Elves used for each of their gardens)

Plants (fake or real work great)
Instructions:
Start by placing a bottom layer in the container. This could be rocks, soil, fake snow or anything else that will set the stage for the type of garden you've chosen!

If you're using real plants, place the base of the flower into the garden, and bury it in the soil. Helpful hint: When using real plants, be sure to include a layer of rocks before the soil so you are able to effectively water your plants.

Place the mini decorations and figurines you've chosen throughout to create a mini world of fun!
Click each picture for full instructions.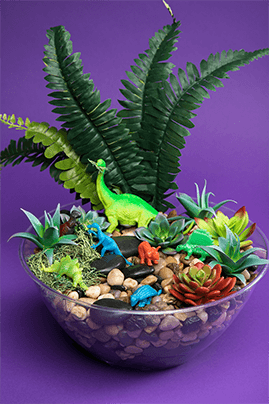 Dino Land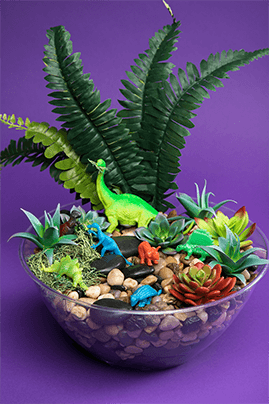 To create your own mini prehistoric place, start by filling a large round bowl with rocks. Decorate with plastic succulents, mini dinosaur figurines, moss and any other plants and décor, and have a roaring good time while assembling!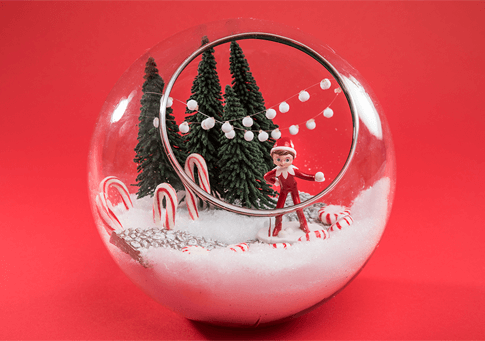 Snowy Scene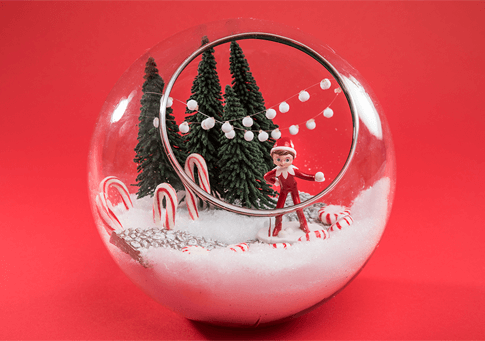 Making a teeny tiny North Pole requires lots of fake snow (check your local craft store) as well as plenty of red-and-white décor (the Scout Elves used small candy canes and peppermints). Petite pine trees, a plastic walkway and a Scout Elf figurine make the scene truly jolly. As a finishing touch, attach mini white pom-poms to fishing line using glue dots, and hang the pint-sized garland.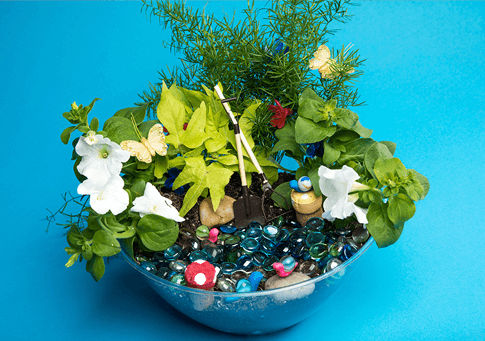 Forest Oasis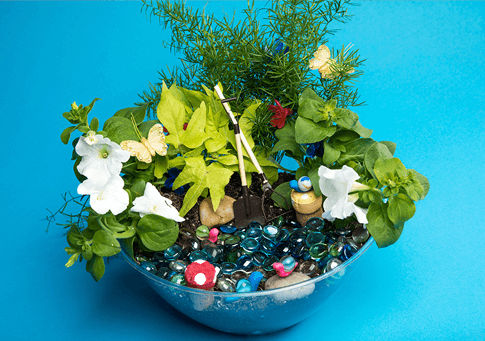 Make your infinitesimal forest come to life by using real plants buried in soil. Helpful hint: Place rocks at the bottom of the bowl to make watering a breeze. For their garden, the Scout Elves turned everyday items into pieces of décor, including small snails made from modeling clay and marbles and corks turned into toadstools with a little paint. Perfect finishing touches include bitsy butterflies and gardening tools, available at most craft stores.
Find more fun family craft ideas inspired by the Scout Elves in the Scout Elf Craft Corner!
Please remember that when attempting the crafts included in this post children should always be supervised by an adult. When using crafting supplies or products, always read manufacturer's instructions and warnings.