It's that time of year when millions of letters make their way to the Scout Elves and Santa at the North Pole, filled with wishes, messages, hopes and more! When it comes time to send your family's letters to Santa, you may wonder: what is Santa's address, how can I make sure he receives my letter or how can I reach Santa at the North Pole?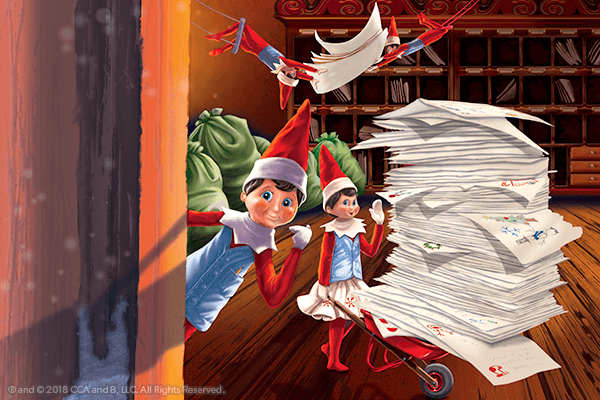 For ages, there have been many ways to relay messages to Santa. From snail mail to emails and even age-old traditions—like in Scotland, where kids shout their messages up the chimney to Santa—the possibilities are almost endless. To help you find the best way to relay your Christmas messages to the North Pole, Santa's Scout Elves have compiled three tried and true ways to make sure Santa always receives your letter!
Scout Elves to the Rescue

As part of their duty for Santa, Scout Elves fly to the North Pole every night to tell Santa about your family's adventures. Next time they're gearing up for their super speedy trip, ask them to carry your letter! This Scout Elf Express delivery system is so beloved by Santa that he put his official stamp of approval on this delivery method. Read all about it—and get the tools to craft the perfect elf-sized letters—in Scout Elf Express Delivers Letters to Santa®.

North Pole Tech

With your kids, visit Santa's North Pole to submit wish lists, messages, questions and more directly to Santa. While you're there, listen to a special message from the Big Man in Red.

Signed, Sealed, Delivered

The North Pole
3350 Riverwood Parkway SE
Suite 300
Atlanta, GA 30339


Send your messages to one of Santa's certified U.S. mail centers. The address above is for the Southern Branch of the North Pole, and this location is filled with humans who work for Santa. This particular center specializes in child-to-elf correspondence, and it is happy to pass along messages to your family's Scout Elf as well as relay all of your important messages to Santa!
Want to see some of the cutest types of letters that reach the North Pole each year? Find out 10 Cutest Things in Kids' Letters to Santa.