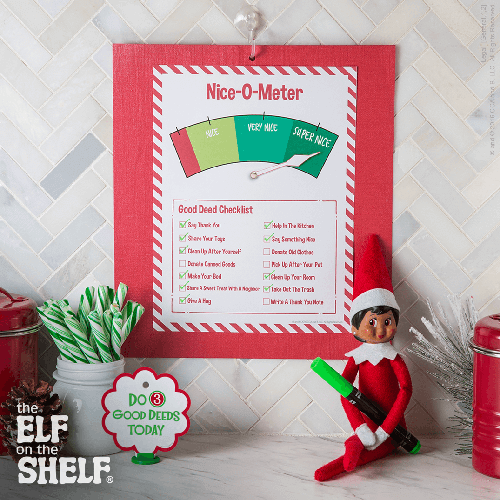 Materials:
Nice-O-Meter printable
Color printer
Paper (1 piece of printer paper and 1 large piece of red construction paper)
Scissors
Tape or glue
1 brad
Hole puncher
Glacier Grip and Scout Elf Message Card from Scout Elves at Play® kit
Instructions:
To track all the Christmas spirit your family's collecting by performing good deeds, your Scout Elf will print out this official North Pole Nice-O-Meter and arrow on printer paper, and cut them out along the solid lines.
Next, your Scout Elf will mount the Nice-O-Meter on a piece of large red construction paper with tape or glue.
To attach the arrow to the Nice-O-Meter, your elf will use a brad.
After punching a hole in the top of the construction paper, your elf will hang the Nice-O-Meter from a Glacier Grip (helpful hint: Glacier Grips work best on smooth surfaces, like mirrors or tile).
To inspire your family to do kind deeds, your elf will sit next to a Scout Elf Message Card and hold onto a pen so that you can cross off all of the nice tasks your family completes this holiday season!