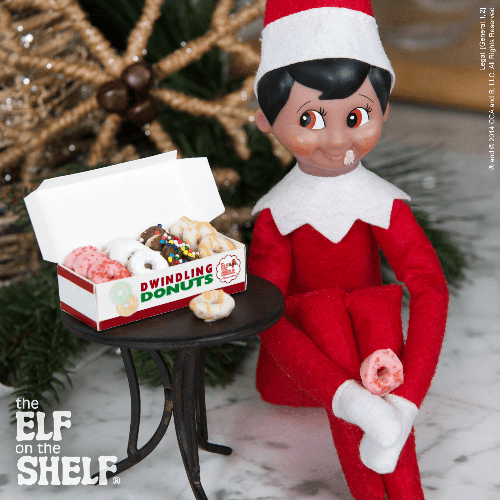 Materials:
Donut box template
Color printer
Cardstock
Clear tape
Scissors
Plastic wrap
Microwave-safe bowl
Chocolate chips
Oval-shaped cereal
Skewer
Tweezers
Food coloring (optional)
Sprinkles (optional)
Powdered Sugar (optional)
Instructions:
To create a donut box, your Scout Elf will use The Elf on the Shelf® donut box template.
After printing the template out on cardstock, your Scout Elf will cut along the solid lines.
Placing the printed side down, your Scout Elf will fold the card stock upwards along the dotted lines, using clear tape to hold the box together at the seams.
Just like a normal-sized donut box, your Scout Elf's box has a place to peek in at the donuts. To make this hole, your Scout Elf will cut out the square marked "viewing window" and covering it with plastic wrap.
To make the donuts, your Scout Elf will use oval-shaped cereal and melted chocolate chips. In a small bowl, your Scout Elf will melt about 2 tablespoons of semi-sweet chocolate chips or white chocolate chips. In the microwave, melting the chocolate takes about 45 seconds. To prevent burning, your Scout Elf will stir the chocolate halfway through the cooking time.
With tweezers, the cereal is dipped in the chocolate.
A skewer is used to push any excess chocolate out of the hole in the cereal.
Your Scout Elf will lay the donuts out until the chocolate hardens.
Multicolor donuts can be created by using food coloring, and sprinkles are always a festive donut topper!
To make powdered sugar donuts, your Scout Elf will dunk the cereal in water and then roll it in powdered sugar.
After your Scout Elf arranges the sweets in the box, it's time to taste some of these tiny treats!