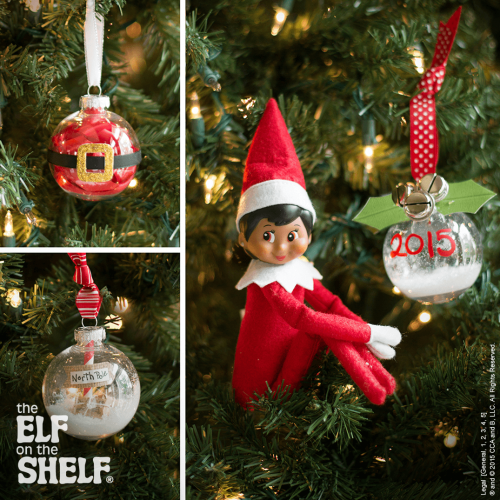 Materials:
Clear fillable ornaments
Red, black and other festive ribbon
Green paper
Gold paint
Red paint
Sugar
Paper
Fine-tip markers
Drinking straw
Glue
Tweezers
3 jingle bells
Instructions:
While you are sleeping, your Scout Elf will be busy creating a special homemade present that will stand out on the Christmas tree this year!
Depending on how ambitious your elf is feeling, he or she will make one or all three of the North Pole ornaments in this picture.
For the Santa ornament, your elf will stuff the clear fillable ornament with red ribbon to resemble Santa's suit. After measuring around the thickest part of the spherical ornament, your elf will cut a piece of black ribbon and use glue to secure it around the ornament. Using gold paint, your elf will draw a square on one side of the ornament that looks just like Santa's belt buckle!
To create the North Pole ornament, your elf will set a wintry scene by pouring sugar into the bottom of the ornament that mimics the white landscape of the North Pole. Next, your elf will create a festive sign that says "North Pole" to attach to a drinking straw, creating a miniature sign.
After gluing the sign to the straw, your elf will roll the sign around the straw so that it will fit into the ornament hole. Using tweezers, your elf will securely stick the sign in the sugary "snow," to create a mini winter wonderland!
Finally, to create the commemorative 2015 Christmas ornament, your elf will begin by filling the clear ornament with sugar to create a snowy backdrop. After closing the top of the ornament, your elf will cut a heptagon with two long sides out of green paper, and draw a horizontal line across the whole piece of paper. Using glue, your elf will attach the middle of the paper to the top of the ornament so it looks like two holly leaves! With string, your elf will attach bells to the small circle on top of the ornament, making sure they fall in the middle of the "leaves." With red paint, your elf will write the date of the ornament so you can always remember when you received this lovely surprise!
All of the ornaments will be complete once a festive ribbon has been tied to the ornament for hanging!