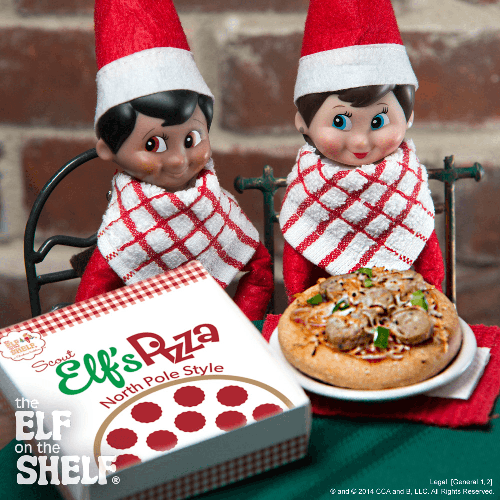 Materials:
Scout Elf's Pizza box template
Cardstock
Tape
Scissors
Rolling pin
Pan
Canned pizza dough
Sauce
Instructions:
Scout Elf's Pizza makes the best pie in the whole North Pole! To replicate this savory snack at your home, your Scout Elf will print out The Elf on the Shelf® pint-sized pizza box template on card stock and cut along the solid lines.
Placing the printed side down, your Scout Elf will fold along the dotted lines, using clear tape to hold the box together at the seams.
Your Scout Elf will be sure to make small slits along the four thick red lines—this is where the four tiny tabs will be tucked away during assembly.
To create the petite pizza crust, your Scout Elf will use a rolling pin to flatten out some canned pizza dough. Then, using a biscuit cutter, the Scout Elf will punch out a small circle of dough. After baking the crust approximately 8 minutes at the temperature specified on the package, your Scout Elf will add a touch of pizza sauce—made with secret ingredients from the North Pole—and whatever toppings they desire. Your Scout Elf will throw the pizza back in the oven for about 4 minutes to melt the cheese.
To prevent making a mess of their clothes, your Scout Elf will create a bib by cutting a triangle of cloth from a dishtowel and tying it around his or her neck. Bon Appétit!