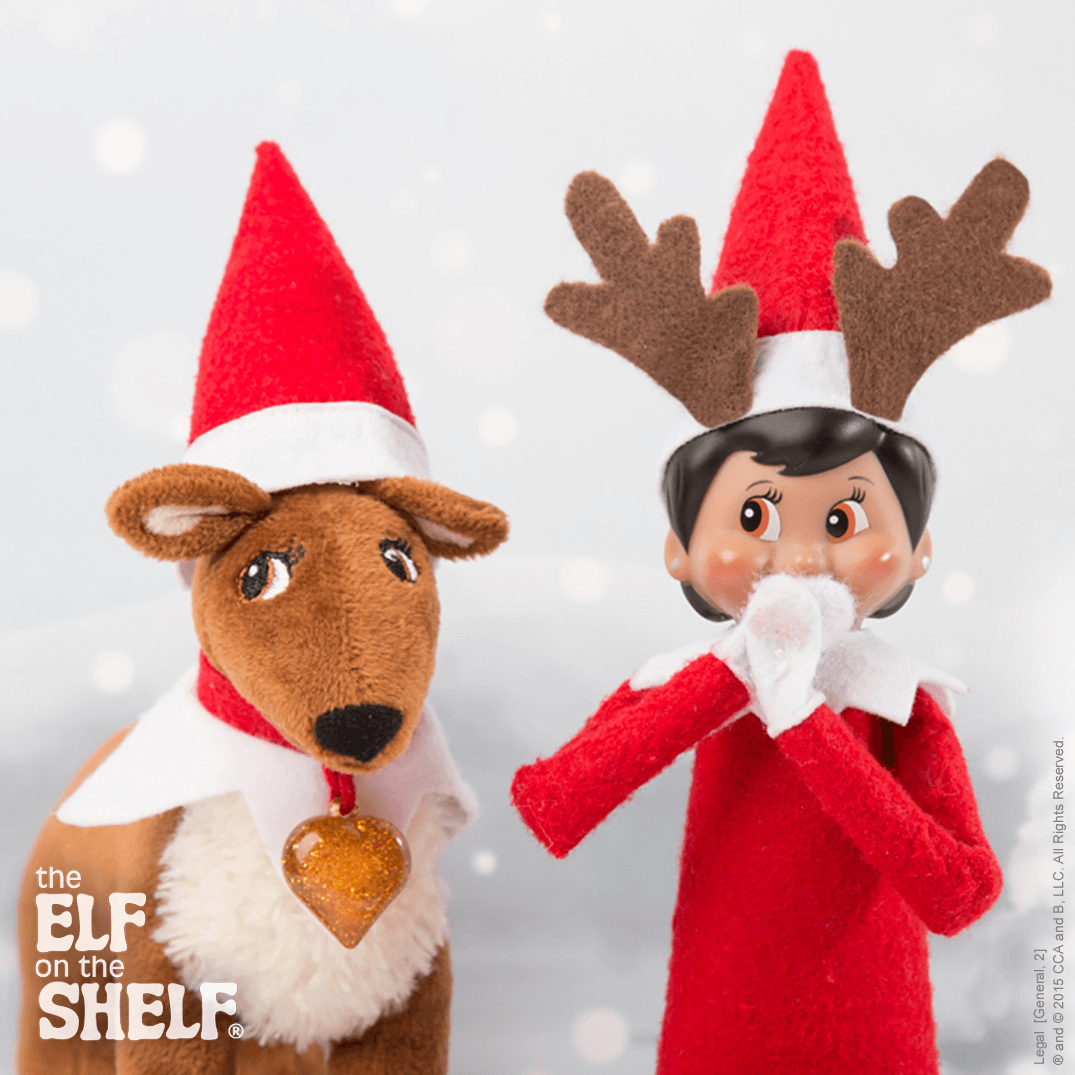 Materials:
Brown felt
Red felt
White felt
A piece of paper
Marker
Ruler
Scissors
Fabric glue
Safety pins
Instructions:
Scout Elves , together with their Elf Pets® Reindeer, love to mix things up at the North Pole! Leave out the materials above and your elf will:
Use the white paper and marker to trace the shape of your Elf Pets® Reindeer's antlers.
Cut out the shape to create an antler pattern.
Place the pattern on top of the brown felt and cut out two antlers.
Use scissors to cut a piece of white felt that is 6 ½ inches long and ¾ of an inch tall.
Glue the ends of the white felt together in a circle so that it fits around their head.
Use glue to attach the felt antlers to the headband. Set aside to dry.
Lay a piece of red felt flat and cut out a piece that is 6 inches by 3 ½ inches.
Take the left side of the red felt and fold it in half along the longer, 6-inch side. Now, the felt should be open on the right side, and folded on the left side. Keep the fabric folded in half.
Start at the lower left-hand side of the fabric and cut along the bottom edge in a slightly curved line to the other side of the fabric, keeping as much material intact as possible. This will round out the whole bottom edge of the fabric.
Cut a straight diagonal line from the upper left hand corner to the lower right hand corner.
Unfold the felt to reveal a triangular shape with a slightly rounded bottom.
Starting at the top of the hat, use fabric glue to glue the felt together into a cone-shaped hat. Set aside to dry.
Use scissors to cut a piece of white felt that is 6 ½ inches long and ¾ of an inch tall. Wrap the white felt around the bottom of the red hat to create the hat's white trim. Glue into place.
Once both pieces are complete, your elf will put on their new antler headband and put the felt elf hat over the reindeer's antlers so they can each rock some fun new headgear!