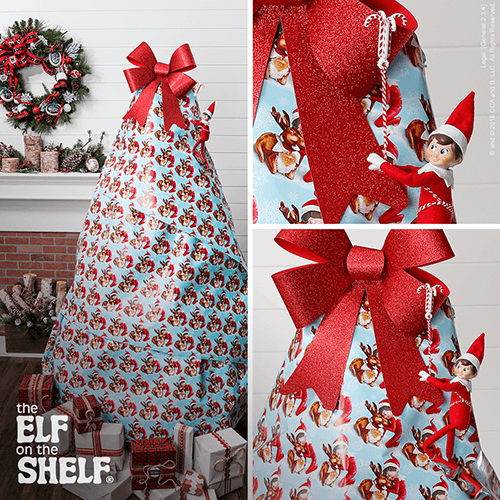 Materials:
Wrapping Paper
Scissors
Tape
Bow
Instructions:
Your Scout Elf decided that wrapping presents wasn't enough! To dress the tree up just like a gift, your Scout Elf will cover the tree in wrapping paper by tilting the paper tube at a slight angle and rolling it around the tree, securing it in place with tape. For an extra festive look, your elf may use The Elf on the Shelf® holiday wrapping paper.
As a finishing touch, your Scout Elf will attach a bow to the top of the new present with tape.
After strapping on the Christmas Climbing Boots, your elf will use the Peppermint Grappling Hook and Candy Cane Cable to grab onto the bow at the top of the tree and go for a carefree climb!