Scout Elves come from the magical world of the North Pole, where there's no limit to the possibilities of each and every enchanted day! So, when they return to your home, your elf knows that the only limit to the possibilities of their hiding spots is their own imagination—and the supplies they have to work with! Check out some of the totally imaginative ideas elves have dreamed up below. Sometimes, the elves even dreamed up a world of 3D fun using creative pop-outs!
Click each picture for full instructions for your Scout Elf.
Candy Quest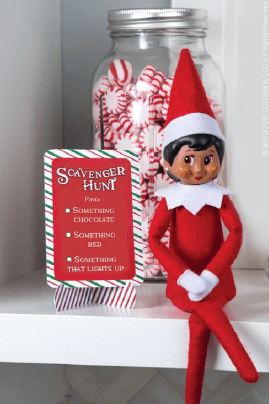 It's time to keep your eyes peeled! Your Scout Elf wants you to go on a mini scavenger hunt around the house to find items that match their list! To pull off this idea, your Scout Elf will set out the list they created—either with a pen and paper or by popping out the list shown here from Scout Elves at Play® Paper Crafts. Happy scavenger hunting!
Marshmallow Mantel Topper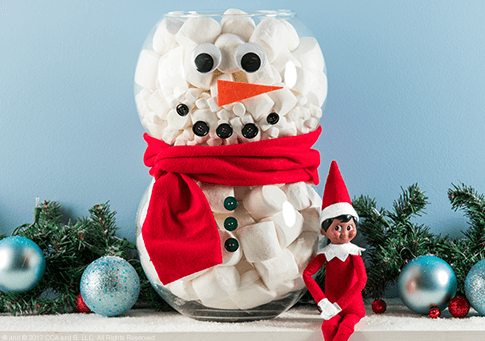 To create this crafty piece of décor, your elf will get creative with household items and a couple of craft supplies.
Materials:
2 fishbowls (same size)
Marshmallows (varying sizes)
Orange construction paper
Scissors
Buttons
Glue dots
Googly eyes
Scarf
Instructions:
Your elf will show you how they can create a smiley snowman by packing two fishbowls with marshmallows of varying sizes.

Next, your elf will attach three buttons in a vertical line on one of the fishbowls by using glue dots.

On the other fishbowl, your elf will attach an orange construction paper triangle as a nose, buttons as a mouth and two large googly eyes to create a face for their frosty friend.

After stacking the bowls on top of each other, your elf will complete the snowman's look with a festive scarf.
Good Deed of the Day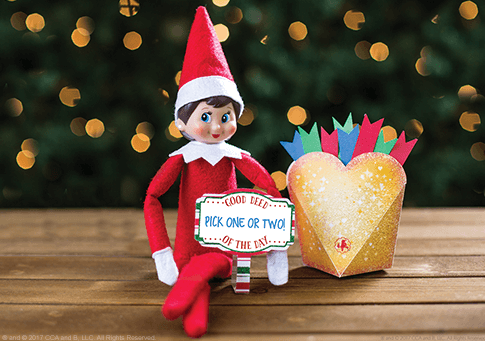 Christmas spirit is spread quickly when people do kind things to create joy among friends, families and even strangers. To help your family get in the spirit of the season, your elf will leave out a box of cards describing kind things you can do each day of the season. The elf above is using the box, message slips and festive sign from Scout Elves at Play® Paper Crafts.
Festive Photo Funny Booth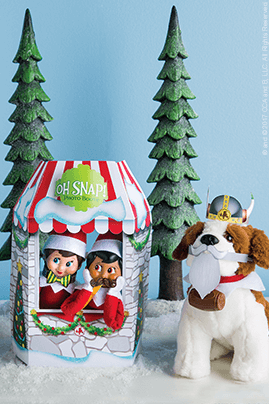 Picture this: Your Scout Elf and Elf Pets® Saint Bernard wearing adorable mini photo props in their very own photo booth! This adorable imagined scene can be a reality in your home when your Scout Elf uses these 3D pop-outs from Scout Elves at Play® Paper Crafts to stage a cute photo op.
Christmas Code Cracker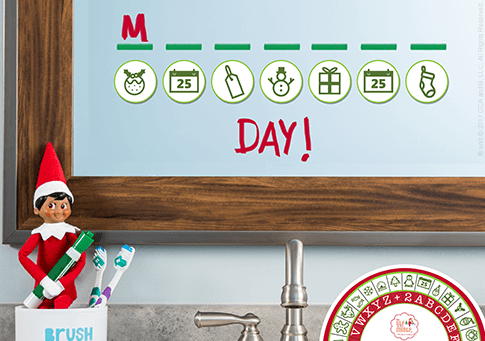 Pssst! Your Scout Elf has a secret message for you, but you'll have to do some decoding work before you can find out what it is! Using the free Scout Elf Decoder printable, your elf will craft a message and leave it out for you to find.
Campfire Fun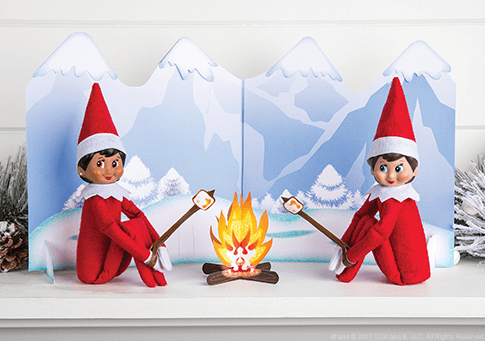 Christmas campouts are a delightful way for Scout Elves to become one with nature at the North Pole, and they want to bring this pastime to life in your home! By creating a mini mountain backdrop and roasting marshmallows over a paper "fire" from Scout Elves at Play® Paper Crafts your elf will feel just like they're back in the great outdoors of the Arctic!
Before you or your elf get to work recreating any of these inspirational photos, be sure to read these safety warnings. Santa wants to make sure everyone stays safe!